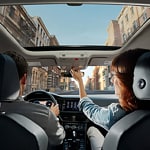 The Volkswagen Jetta is a popular compact sedan that's known for both efficiency and performance. For Crystal Lake, IL drivers seeking a modern look and feel, this car is packed with innovative design features. At Volskwagen of Crystal Lake, we're excited to tell you about two design features that can greatly enhance your driving experiences.
The Volkswagen Jetta has the ability to store as many as four driver profiles. This is perfect for families and couples that share their vehicles. With this design feature, your car will remember your preferences for personalization across a number of systems and settings.
When you drive the Volkswagen Jetta, you'll get a clear and expansive view of the overhead sky. This unit can slide or tilt to provide less or more natural light according to your preference. To experience the latest design features of the Volkswagen Jetta firsthand, drop by Volkswagen of Crystal Lake for a test drive.