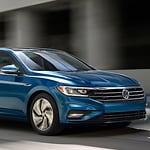 At Volkswagen of Crystal Lake, the people on our team are always searching for cars that embrace versatility. That's why we're proud to have the Volkswagen Jetta on our lot. With its sleek design, this popular compact sedan is a true go-anywhere car.
The magic happens on the exterior. With its clean lines and subtle sporty styling, the Jetta is right at home in any situation. You'll feel proud to drive it up to the office or right to the door of your favorite restaurant, but it's also a great fit for casual family outings.
Inside, the Jetta welcomes you with a host of thoughtful, driver-centric details. The supportive seats keep you feeling comfortable and ache-free, even on long drives. Do you deal with intense weather extremes? Opt for the ventilation and heating options to stay cozy. Try both options out when you stop in to go for a test drive with our team in Crystal Lake.