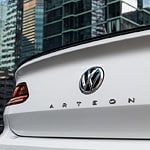 Telling our Volkswagen Of Crystal Lake team all the reasons why the Volkswagen Arteon leads its class is like preaching to the choir. We already know. For those of who still don't, we're spotlighting the following design features for your info.
Precision Climate Control
Thanks to the Volkswagen Arteon's Climatronic technology, all passengers enjoy climate control tuned to their biology, needs or the occasion. The system is automatic and covers three zones within the cabin, delivering spot-on cool air or heat to the driver and the passengers in the front, back and on either side of the cabin.
Huge Alloy Wheels
The Volkswagen Arteon's sporty R-Line trim comes equipped with 20-inch alloy wheels. Alloy wheels keep vehicle weight low, a factor that partly contributes to the Volkswagen Arteon's high payload and towing capacity of roughly 1,800 to 2,000 pounds. The size of the wheels makes a differences also. Bigger wheels have more surface area to connect with the road, which means more traction, grip, stability and better maneuverability.