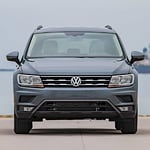 Security is what you will gain from the many safety features in the Volkswagen Tiguan. The technology is a perfect complement to your driving as it assists with you staying focused and aware. Sometimes the technology alerts you to things you may have otherwise missed.
Take the Blind Spot Monitor with Side Assist, for example. You are driving on a busy interchange in Crystal Lake when you attempt to merge; the system will alert you if a vehicle is occupying the Tiguan's blind spot. Merging is made more convenient thanks to this standard function.
We at Volkswagen Of Crystal Lake know the danger a flat tire can present. The Tire Pressure Monitoring System will monitor the pressure in your Tiguan's tires. You will be alerted when to add air to your tires, making for a convenient and safer process. You'll love the Tiguan for its innovative technology.